The Healing Power of Art–By Sammy Wong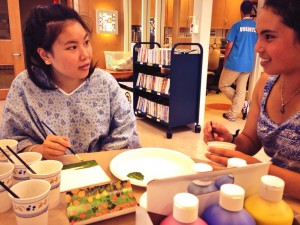 Over this summer I have been volunteering as an intern at Endure to Cure where I have been doing a large range of projects from blog posts to visiting kids at the hospital. My main focus, though, has been in creating an art program for kids with cancer to launch in children's hospitals in Boston. The purpose of this program is to help these kids who are going through difficult times to take their minds off treatments and other stresses while interacting with and meeting new kids in a fun environment. Art has a way of reaching people and allowing them the freedom to learn and express themselves in new and creative ways. I wanted to bring these possibilities to the hospital. Through my visits I also learned the importance of providing these children who are in hospitals with diversions – something to take their minds off of the boredom, isolation, and stresses of their circumstances. Brightness in these hard days can often be hard for them to come by, and smiles and short moments of happiness can mean the world to both the kids and their families.
As my idea for an art program developed, I decided that each project should be a collaborative piece that could ultimately be hung in the hospital and provide inspiration to others. With this in mind I created two projects for the kick-off of the program: a mosaic for the older kids and a collage for the younger kids.
The first project is called Pieces of a Whole and targets kids age 8 and older. The project design is to have a large poster of a famous picture cut up into smaller pieces and each piece of the picture is given to a different child. The child then does their best to replicate their piece of the picture on their own canvas using paint. Once all of the pieces are completed they will be put back into the original picture. As the kids start to finish they will be able to see their individual pieces transform into a whole.
The second project is called Shine On and is directed for kids under 8 years old. It is designed so that each child will be given a canvas to paint a sun or star using acrylic paints. The different pictures will be pasted onto a larger poster board to create a vibrant collage.
Both pictures, aimed to be colorful and uplifting, can be hung in the hospital so that the kids who participate can have the satisfaction of seeing their own work on display, as well as provide a cheerful addition to the hospital.
After lots of planning and then coordinating with local hospitals, it was finally time to put our plan into action and July 29, 2014 was our first official session. Unfortunately, or fortunately, there were not too many children at the hospital for treatment that day so we started with just one girl and her family participating in the project. Even though our numbers were small, we still had a blast. The first painting we are replicating is Flowering Garden by Vincent Van Gogh, and by the end of the session we finished 3 of the 24 pieces. Sarah, the 16 year old girl who came, was smiling the whole time and was able to open up and talk to me for almost the whole 2 hours. She had never painted before but mastered mixing paints to match colors and painting in layers. Her two family members saw how much fun we were having and wanted to paint a piece as well. When the time came for us to finish for the session she excitedly asked us if we were going to be there the next day. This truly meant a lot to me because it showed how much our efforts really mattered and could impact these kids, even if it is one child at a time.
With this program we were able to give Sarah 2 hours where she didn't have to focus on her health issues–she could just enjoy the art experience. Over the next 3 weeks we are going to go back to the hospital whenever they have more kids who want to participate in the program. I hope that we can continue to bring smiles to these children's faces and create our own kind of healing through art!